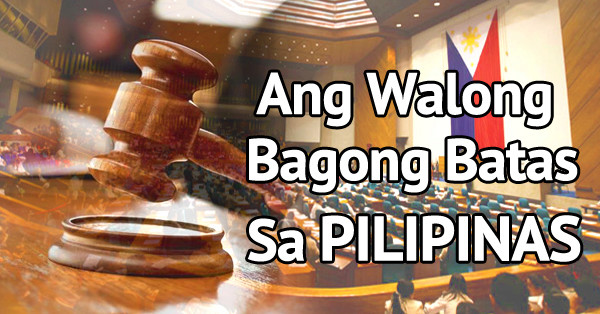 With less than a hundred days of the new President, Rodrigo Duterte, more than30 bills have been passed in the congress already.

In the constitution, a bill should be signed or declined by the President within 30 days will be automatically mandated.

Here are the list of 8 most controversial new laws in our country:

1)Republic Act 10883 – Stricter Anti-carnapping Law
In this law, convicted carnappers wouldn't be allowed to bail. Their jail sentence was increased to 20 to 30 years from the 17 jail years before. 
2)Republic Act 10905 – Mandatory Subtitles
This mandates all networks and producers of TV shows to put subtitles in their programs for the deaf community. 
This excludes public service anouncements below 10 minutes and programs which airs from 1am to 6am. 
Violation of this law would have to pay the fine of Php50,000-Php100,000 or would serve 6months-12months jail time. Their license to operate might be confiscated as well.
3) Republic Act 10906 – Stronger measures for the Anti-mail-order Bride Law
This prohibits the business of sending Filipinas overseas to wed foreign nationals. They can be convicted to 15 years of jail time and would have to pay Php500,000-Php1 Million fine. This might increase depending on the number of offenses made. 
This also include foreigners staying in the country. They will be deported back to their country once found guilty. 
4) Republic Act 10909 – Exact Change
This mandates all merchandising stores to give exact change and not offer candies in exchange. This act can now be reported as a violation. This law also mandates stores to put price tags so customers would immediately know the price of the items. 
Fines for violation are as follows:
-P500 o 3% ng gross sales for 1st offense.
-P5,000 o 5% ng gross sales for 2nd offense.
-P15,000 o 7% ng gross sales and 3 months business suspension for 3rd offense.
-P25,000 fine and business termination for 4th offense. 
5) Republic Act 10910 – Longer Prescription for Crimes of Graft and Corruption
This increases the jail time of convicted for the crime of Graft and Corruption from 15 years to 20 years.
6) Republic Act 10911 – Anti-age discrimination for employees
This mandates employers to not have discrimation in accepting employees with regards to age. This also includes prohibiting right wage, promotions, and developmental training for old-aged employees. 
Violation of this law will be fine Php50,000-Php500,000 and would have to serve 3 months-2 years jail time.
7) Anti-Distracted Driving Act
This prohibits drivers from texting, calling or surfing the internet while driving. Fine of Php5,000 to Php15,000 shall be charged if this law is violated. 3rd offense would mean confiscated license for 3 months. 
This also includes all types of vehicles, bicycles, motorcyles, tricycles, and diplomatic and government-owned vehicles.
8.) Republic Act 10916 – Mandatory Speed Limiters
This mandates all public utility vehicles to install speed limiters. Operators are given 18 months to have it installed in their units. Vehicles without speed limiters will not be allowed to register and would have to fine Php50,000. 
License and franchise perits of operators might also be confiscated and drivers might be suspended if speed limiters are not installed within 18 months. 
Violation of the law and fraud of speed limiters will have to go to jail with the sentence of 6 to 36 months and would have to pay the fine of Php30,000.